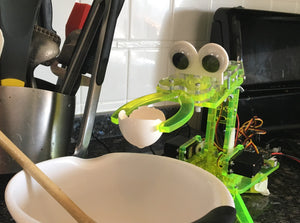 Why Choose mimicRobots?
Our mimicArm and tinyBot coding robots teach mechanical assembly, robotics fundamentals, and programming. Kits are designed for easy assembly, so your student can start programming their educational robot arm right away. Both tinyBot and mimicArm include everything you need to build your coding robot and get your student learning as quickly as possible.
While our coding robots offer great programming opportunities, programming isn't required to use your tinyBot or mimicArm. As soon as your build is finished you can start using your coding robot in MANUAL mode. Just plug the robot in and your mimicArm will mimic the users movements while tinyBot responds to presses of her controller's buttons.